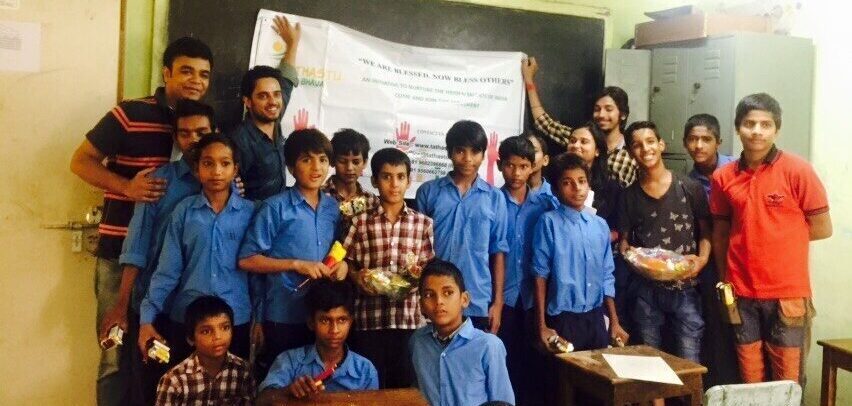 About Us: The Tathastu Bhava family is a group of extraordinary enthusiastic people with originality at our core, and effervescent passion in our genes along with one goal i.e. to drive evolution & novelty within our community – and push the world forward.
Legal Status: Tathastu Bhava has been incorporated in 2014 and is a registered Not-for-Profit Organization in India. It is governed by an executive committee (Board of Organization) consisting of professionals with comprehensive knowledge and understanding about social development. The office of the NGO is situated at 36 Saidulajab, Post office-Mehrauli, Delhi – 110030.
Vision: Our main objective is to provide education opportunity to financially challenged children, and healthcare facilities to the needy. We wish to craft a society without any border of caste, color and community. Creativity, like any other ability, must be noticed and nurtured to bloom. We, at Tathastu Bhava recognize creative talent by giving them opportunities to explore many realms of expression by observing their interests and abilities. 
Mission: The aim and objectives for which this NGO is established are the following:
Education, Research and Training: To promote education, especially girl education. Tathastu Bhava supports young boys & girls to prepare themselves for competitive examination & be successful in the state & National administrative services. Moreover, we wish to promote the use of Information & Communication Technology (ICT) for socio-economic development of the community. 
Art & Culture: With the flow of globalization, we often forget how our ancestors lived and how we miss out to experience the aesthetic moments. Most importantly, our culture and traditions makes us unique and gives us the feeling of belongingness. Sometimes bright & talented artists fail to show their talent due to constraint of resources, suitable platform, proper guidance & coaching. We are steadfast in working in the field of promoting Indian art and culture.
Sports: Sports brings cultures together, bridges gaps between countries and across generations, it is recognised as an essential element of learning through physical activities and games. With an intention to reinforce the youth of our country with the power of sportsmanship, this NGO also focuses on using sports as a medium to encourage learning and breed leadership among the youth in the rural areas.
Entrepreneurs: Many young boys & girls have entrepreneurship ideas, energy & competencies; however, same could not be materialized due to lack of guidance, mentoring, support & resources. Therefore, Tathastu Bhava supports young boys & girls in their entrepreneurship ventures.
Clothes Donation Drive
https://www.instagram.com/tathastu_bhava_ngo/