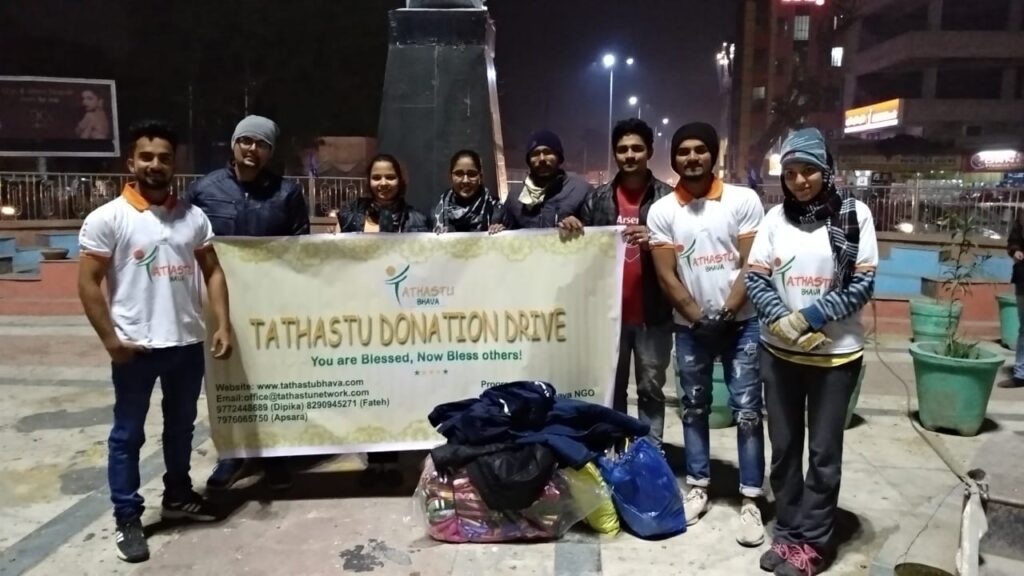 Tathastu Bhava Bikaner Branch ended the year 2019 in its own unique way, by spreading the joy of giving. A two-day donation drive was organised on the last day of the year 2019 and first day of new year 2020.
The Tathastu Donation Drive became a huge success as it brought happiness to a large group of needy and underprivileged people who spend their winters shivering in the cold due to lack of adequate winter clothing and food. On 31st December 2019, Tathastu Bhava volunteers donated blankets, shawls, sweaters, gloves, caps, mufflers and socks. Volunteers spent time with the homeless people and shared some sweets and snacks to end the year on a positive and happy note.
In order to welcome the new year with a new feeling, Tathastu Bhava volunteers Deepika, Bothra, Fateh Mohammad, Neetu Acharya, Heena Koser, Shine Koser, Navin, Tejpal, Renu, Neelam, Sikandar and Piyush planned and organised a social meet with members of Apna Ghar old age home. These volunteers, along with the management, had a fun time with the elders living there. They danced and sang songs followed by a New Year cake cutting ceremony. The happiness and love that the members felt and expressed was priceless. Their smiles and blessings made it all worth the effort.
Volunteers
Deepika Bothra
 Fateh Mohammad
Neetu Acharya
Heena Koser
 Shine Koser
 Navin
Renu
Neelam
Tejpal
Sikandar Ali
Piyush
Manish Sethiya
Akshay Mathur
Apsara Bothra
Pratima Minni
Chhaya Minni
Mayank Bothra
Sonu Jain
Raja Sethia
Sumit Bothra
Pradeep Kothari
Deepika Bothra
Teena Bhansali
Sourabh Bhansali