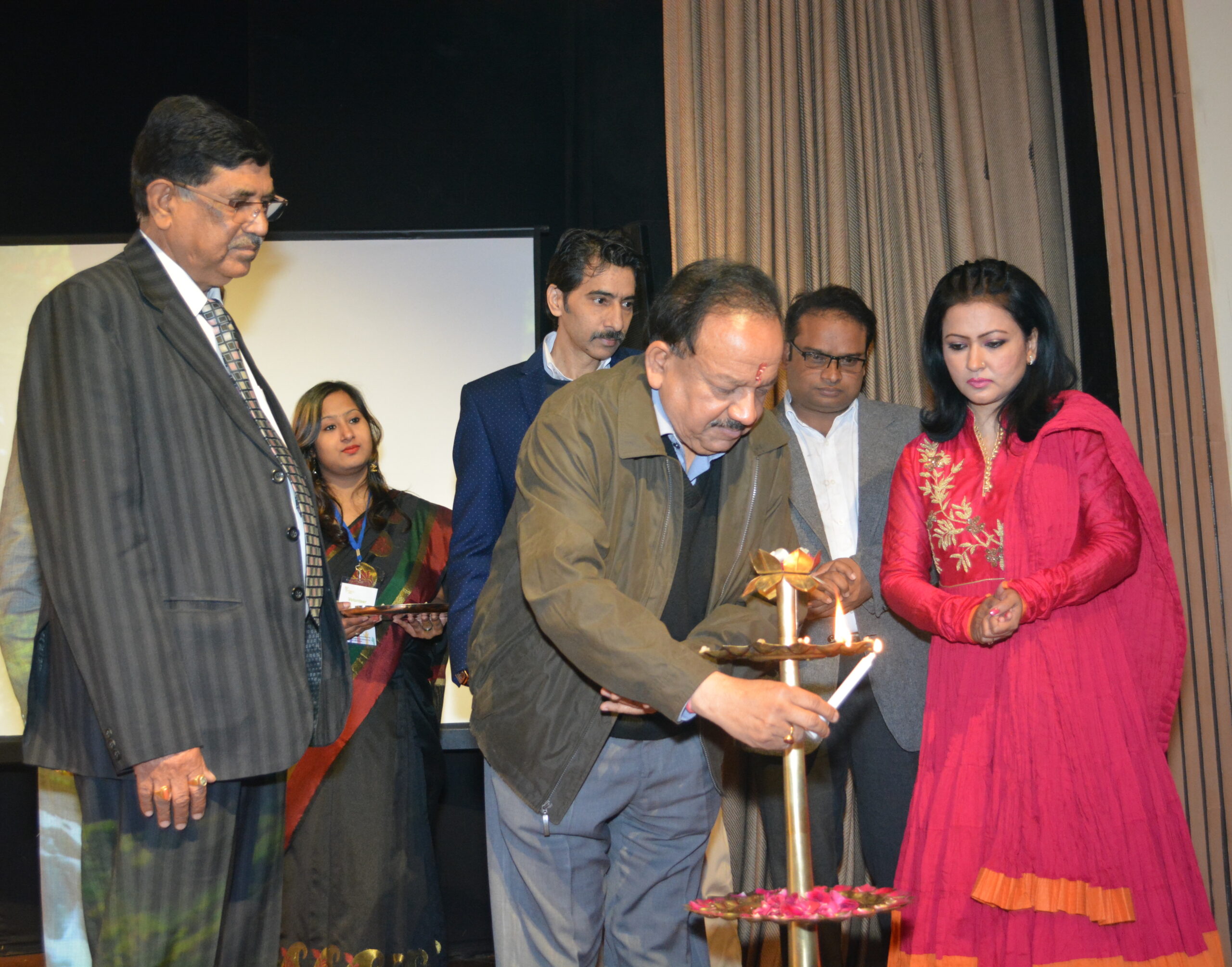 TATHASTU AWARD 2017 is an appreciation and honour for National Leaders, Industrialists, Bureaucrats, Corporate Heads and other prominent personalities and organisations of India who have made a significant impact on their community in the field of Business, Education, Art, Culture, Sports, Media and Social Welfare, with the main objective of enhancing development activities in their respective fields.
With a view to recognize the contribution made and excellence achieved towards the development of a better society, the second ceremony of Tathastu Awards was held on 13th January 2018 at Chinmaya Mission Auditorium, Lodhi Road, New Delhi.
The award ceremony brought together senior leaders from private, public and academic sectors of India, with the aim of recognizing the efforts of those noble personalities working with dedication in their respective fields and contributing in a significant way to the society.
The event was graced by the esteemed presence of Dr Harsh Vardhan, Hon'ble Minister of Science & Technology; Earth Sciences; and Environment, Forest & Climate Change as the Chief Guest; Jain Saint-  Muni Shri Jayant Kumar Ji; Mr Anand Jain, Senior IPS Officer as Special Guest; and Minister Counselor of Venezuela Diplomatic Mission- Mr Nestor Lopez as a Guest of Honour.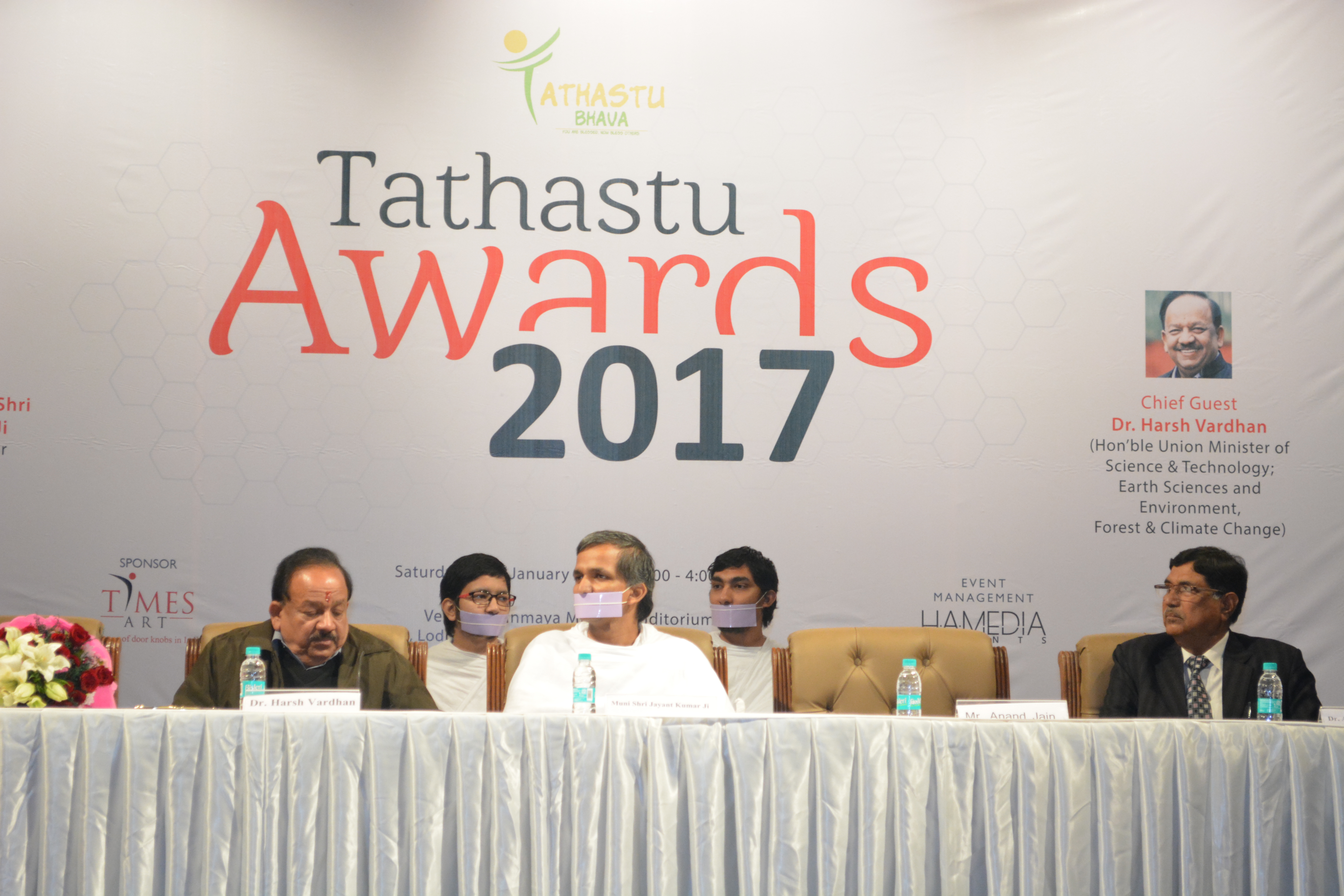 While appreciating the endeavours of the NGO, Dr Harsh Vardhan said, "The efforts undertaken by Tathastu Bhava in recognizing and appreciating the laudable work of those working in different fields for the betterment of the society are indeed praiseworthy. It will infuse a new wave of inspiration in building a new India."
 

Awardees Profile : TATHASTU AWARD 2017
Mr Sankarshan Sharan
Being a Spiritual Guru, through 'Maa Kamakhya Devi Jan Kalyan Sewa Sansthan' and 'Maa Kamakhya Sansthan' (Gurugram & Raipur) Sankarshan Sharan is putting his dedicated efforts in providing help to flood relief fund and creating awareness about Yoga. He has volunteered in Swachh Bharat Abhiyan, launched campaign against AIDS, Leprosy and has conducted free Gurukul for helpless children. Through his earnest endeavours, he is directing boys and girls to walk on the correct path of life, guiding married couples to prevent divorce, and is supporting helpless people (women/oldies).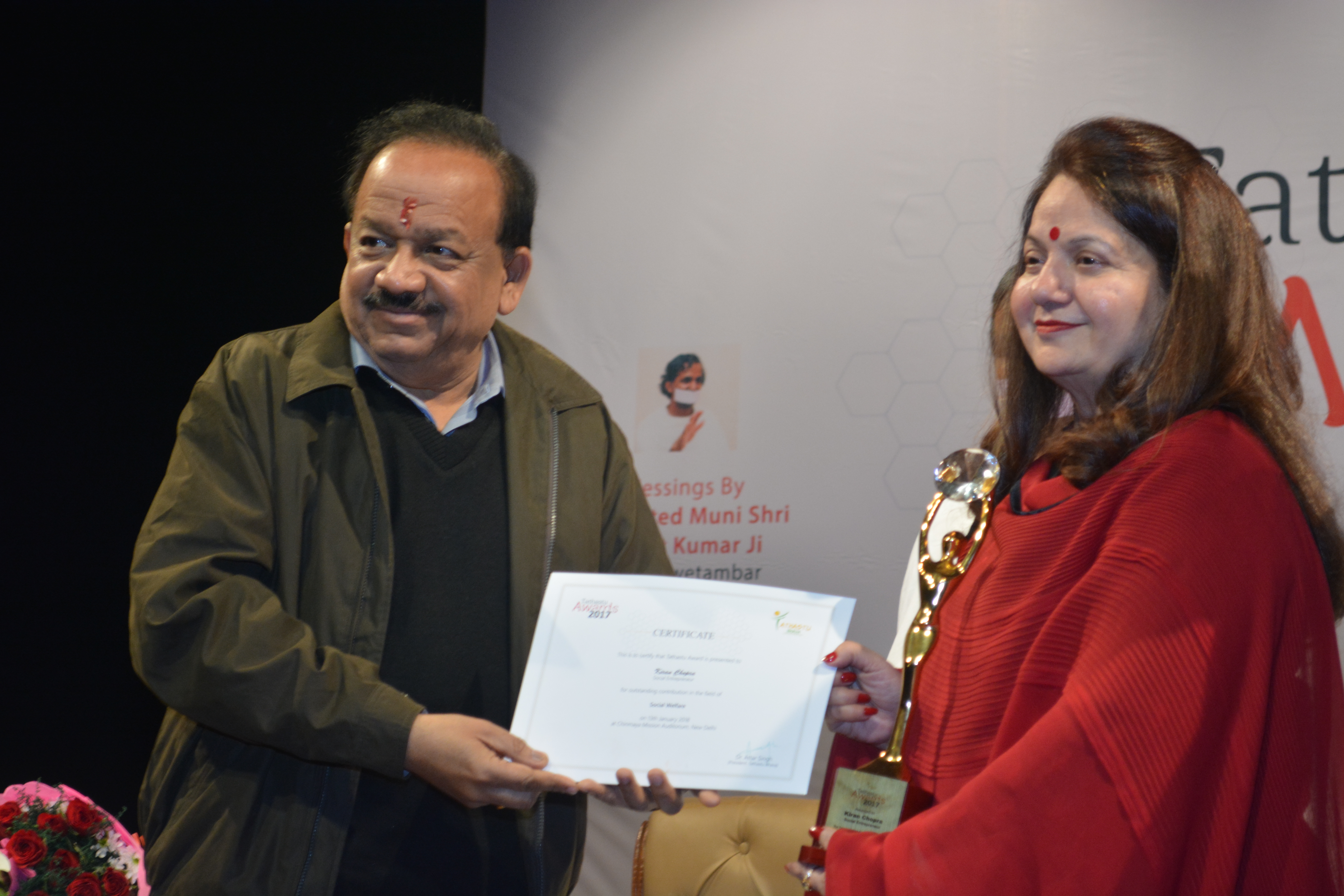 Ms Kiran Chopra
A well-known name, Kiran Chopra is the Founder-Chairperson of Varishth Nagrik Kesari Club (working for needy, middle and upper-class senior citizens). She is a social worker of eminence, an entrepreneur, educationist and a humanitarian. Her education and upbringing helped her grow as a cultured individual full of care, love and compassion for others. As a humanist, she believes in helping others, those who need it most. She is a great believer in action and has won the hearts of millions of ageing people.
Ms Shallu Jindal
Shallu Jindal is a multitalented, charismatic and accomplished personality of subtle substance and sophisticated style. She believes and excels in meaningful and wide-ranging, 'direct to the deserving' social, charitable and welfare activity and is a philanthropist in her own right. This doe-eyed and slender beauty appreciates art, promotes culture and has worked relentlessly towards becoming arguably, one of the leading exponents of the great Indian classical dance of Kuchipudi.
Mr Millind Gaba
Millind Gaba is a multi-talented person popularly known to be a singer, rapper, music director and an actor. He completed his schooling at D.A.V Public School. His official debut track 4 Men Down was released by Speed Records. He made his debut as an actor in Punjabi film Stupid 7. He came under lights in songs like "Dilliwali Zaalim Girlfriend", "Daaru party", "Drink Like a Fish" etc. As his songs receive immense love from the youth, he has become extremely popular on social media with millions of subscribers on Youtube.
Ms Sushma Verma
Sushma Verma is a rising star of Indian women's cricket team. She started her national level career as a wicket-keeper and right-hand batswoman in the Indian women's national cricket team. Before that, she played for the Himachal Pradesh Cricket Association. Under her captaincy, the Himachal team were the runners-up at the Under-19 All-India women's tournament in 2011. She is the first cricketer from Himachal Pradesh male or female to represent India in international cricket.
Mr Vikas Kumar Dagar
A designated Indian Navy Chief, Vikas Kumar is a Wrestler by passion & profession who has made India proud across various countries, many a time in last few years. He has won many Gold, Silver & Bronze medals since 2012 in various leagues and championships namely Asian Championship, National Games, Senior National, Pro Leagues, Russion Cup and World Championship; to name a few.
Ms Rama Pandey
Born in Jodhpur, raised & educated in Jaipur, the small town girl rose to International heights by becoming the roaming cultural ambassador of India in 1971 at a very early age. Rama Pandey is a film & theatre personality, a well-known author, a cultural persona & activist. Montage Films company belongs to her, which makes contemporary films apart from being attached to literary works be it books, poems, events, films, television etc.
Mr Piyush Jain
Piyush Jain, Co-founder and CEO at Impact Guru, India's leading crowd-funding platform, incubated at the Harvard Innovation Lab., educated at Wharton and Harvard, he has worked for the J.P.Morgan, Boston Consulting Group, Ernst and Young and RB Investments as investment banker and management consultant. He has recently sealed a partnership with nonprofit crowdfunding platform Global Giving, allowing US and UK donors to receive tax benefits on their donations to Impact Guru campaigns.
Mr Manit Jain
Manit Jain, an alumnus of Harvard University and Co-Chair of FICCI's School Education Committee – FICCI Arise, has been actively involved with the Heritage schools in an advisory capacity. He has personally championed and led several change initiatives to transform the schools into Xperiential learning schools. He is also the co-founder of "I am a Teacher", an initiative that is developing a model for practice-based teacher education in collaboration with Boston Teacher Residency.
Mr Hira Lal Galera
Hira Lal Galera is an active member of Jain Terapanth Community and also C.E.O of Times Art – which is one of the leading exporters of homeware, tableware, kitchenware and hotelware. Times Art is a prominent exporter of best-selling door knobs all over the world, since 1999, especially to most of the European countries and USA. It has been felicitated with Certificate of Merit for Excellent Export Growth for Miscellaneous Crafts in 2010-11. Times Art is taking this business to new heights and many more countries day by day.
Ms Annu Kalra
After spending over 20 years in the Corporate world as Media, Communication and Brand Consultant, Annu Kalra is devoting most of her time and energy to facilitating transformation in people and their lives. In August 2017 she launched her 1st book Aavirbhaav. She was awarded 'The Iconic Woman making a difference for All' at the Women Economic Forum in 2017. She was also awarded for 'Excellence in Art' by the Bharat Nirman Foundation in 2016.
Ms Smita Shrivastav
Smita Shrivastav who hails from the land of Benaras. With extensive knowledge about handloom, she holds diploma in fashion design. She holds passion for textile, arts and handicrafts that explains her quest for artisans. She has a vision for revival of dying handicrafts industry which  urged her to take a plunge for betterment of artisans. As a 'Make In India' activist, she is working closely with the weavers family.
Mr Gaurav Gupta
Gaurav Gupta, Director – Vrinda Eco Garden Ltd. belongs to renowned and reputed business family of Delhi. Heading Rajasthani Academy (founded by Sh. R.N Lakhotia) and Lions Club Delhi, Gaurav Gupta is working closely with school students, teachers, underprivileged and older people of society. Being the Treasurer at ICHR, he is also closely associated with several religious and social organizations such as Nehru Primary School, Red Cross, St John Ambulance Brigade, Age Care India, Investors Club and International Veg Council.
Mr Karan Aanand
Karan Aanand is an Indian actor-producer. He is known for his works in Hindi movies and also on Indian television. His first Bollywood movie was 'Gunday', followed by 'Kick', where his action scenes were appreciated. But he truly received recognition for his spy-act in 'Baby'. Recently, he had a cameo in Madhur Bhandarkar's 'Calendar Girls'. He has received the Best actor award from Lion Club International and has produced No. 1 ranked TV show 'Ek Lakshya'.
Ms Parull Mahaajan
Parull Mahaajan is an Inspiring Lady who wears many hats at the same time. A Lawyer, Interior Designer specialising in green and sustainable designs , Advisor Delhi Literature Festival and Social Activist working for multiple causes like Environment Conservation, Swachh Bharat, Women Empowerment and Promoting the interests of Weavers, Artisans, Farmers and promoting Khadi globally. Coming from a family of Bureaucrats she believes in serving the nation and it's people and has dedicated her life for the same.
Ms Sneha Misran
With the thrust on education, Sneha Misran managed to organise hundreds of students from Delhi University into teams conducting educational campaigns in remote areas. In a mere span of 3 years of the formation of Kitaab Club, her program has spread to over 5 states including Uttarakhand, Punjab, Odisha, Rajasthan and Delhi. She has donated over 5,000 storybooks in village schools. Her organisation has moved on to conduct campaigns on menstrual hygiene, safety, and health.
Siddhartha Vashishta Charitable Trust (SVCT)
Siddhartha Vashishta Charitable Trust (SVCT) is perhaps the only NGO in India that is working towards the welfare of 'Children of Prisoners' (COPs). The organisation strongly believes that since children are the future citizens of the society, they need to get equal opportunities for personal growth and development without any discrimination.  SVCT organises annual seminars on the same theme and three have taken place already. There is a long way to go for the organisation as more and more requests are pouring in for support within the current location as well as from across the country.
Mr Javed Ali
Working in the field of construction since 1986 , Javed Ali is the owner of Stone Art Hub. Stone Art Hub provides material to enhance the beauty & strength of the surroundings of the temples, having various designs based on different religions that are still the same in basic architecture for that religion. Some of its aesthetic work can be seen at Sri Swami Narayan Mandir , Baroda (Gujarat); Shree Swami Adityanath Ji mandir , Bhiwari (Rajasthan) and Jain Mandir, Main bazar, Bikaner (Rajasthan).